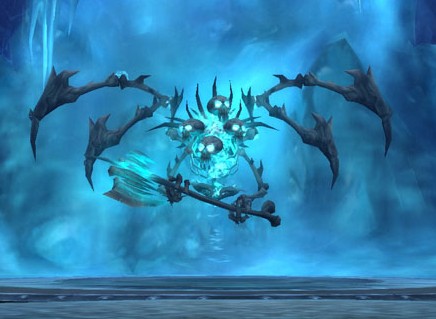 Health
6,972,500 (10 normal)
23,700,000 (25 normal)
10,500,000 (10 heroic)
31,376,000 (25 heroic)
Er zijn 2 fases.
Boss/add abilities:
Lord Marrowgar heeft 5.2m health 10-man.
Fase 1
fase1
Lord Marrowgar Melee hits
Slaat hard op de tanks maar is zat te healen.
Saber lash
Splits 300% van de normale melee dps naar de tank en een offtank of melee dps,
Tank kan hierdoor impaled raken (effe kijken hoe dat gaat)
Daarom heb je een MT en OT nodig!!!
Cold Flame
Hier summoned hij een rechte lijn van cold flames en hit ons voor 7000 frost damage elke seconde dat je erin staat. Dit blijft hij het hele gevecht doen, maar is makkelijk te ontwijken, alleen melee dps moet goed oppassen omdat die flames vanaf de boss spawnen.
Bone spike graveyard
3 second cast.
Hier spawnen 3 spikes van ijs uit de grond op random plekken. Als iemand erin terecht komt is die gestunned. Deals 10% van de max health per seconde voor 5 minuten. (dus healers moeten alert blijven)
Hier moet de dps de spike zo snel mogelijk kapot slaan of schieten zodat diegene die in 't ijs staat weer verder kan gaan met het gevecht.
Fase 2
Bone Cyclone (Whirlwind)
Instant cast, die duurt 30 seconden.
Als deze je raakt krijg je een bleed effect voor 15 seconden. Deals 10.000 damage elke 3 seconden. Marrowgar veranderd van form wanneer hij deze ability gaat doen. Dus let op !!
Deze fase is heel simpel, de boss pikt 1 random raidmember die hij gaat achtervolgen en als hij op de bestemming is waar hij moet zijn gaat hij whirlwinden, dus blijf ten alle tijden bij hem of degene die hij achterna gaat zit uit de buurt. Let wel op, hij blijft wel die frostflames spawnen dus pas op waar je loopt. Als hij klaar is met de whirlwind pikt hij een andere target totdat de 30 seconden voorbij zijn.
Als de whirlwind voorbij is dan is er een AGGRO WIPE, dan begint fase 1 weer en fase 2 begint dan weer na 1 minuut, dit gaat zo door tot de boss down is.
Belangrijkst notes
1: Goeie setup van posities (range dps en healers staan achter de tanks en de melee dps in een halve maan zodat niet iedereen damage krijg van cold flames.
2: Ontwijk de cold flames. Melee dps wees alert, jullie moeten snel uit de cold flames lopen omdat die van achter de baas spawnen.
3: KILL BONE SPIKES!! Zodat diegene weer snel kan healen of dpsen.
4: Move away from whirlwind! Melee dps moet 5 seconden voordat hij begint bij '
Tips: During bone storm try only to move to avoid the cold flame, it is easy to heal through the bone storm. Simply keep an eye on Lord Marrowgar to see whether or not you will be in the way of the cold flame
Alternative Positioning Strategy
The entire raid (except the tanks) collapse into a single group behind Lord Marrowgar within the red circle visible on the ground when he is targeted. Hunters should stand as close to this group as possible, but still be far enough away that they can still shoot. Communication from any Hunters is important should they get hit with Bone Spike, the DPS can quickly react to it and make adjustments. This strategy has the bonus of being able to very quickly bring players out of the Bone Spikes, and if everyone is within the red circle, any Cold Flames launched at players will miss, as the flames don't land on the ground until they are just outside of the circle.
As a downside, players must quickly move out several seconds before Bone Storm begins otherwise the raid will take heavy damage. Players must also watch their positioning to make sure they don't stray into the front of the boss and risk getting hit with the Bone Slice.
Heroic Mode
The same strategy you use in normal mode should work in heroic mode, as the fight is largely unchanged though with drastically increased Bone Storm damage. The cold flame lasts longer and if you use a strategy where everyone stands inside Lord Morrowgar hitbox, your tanks will need to work around 3 or more cold flames up. During the bonestorm phase, Lord Morrowgar will continue to cast bone spike. This could lead to easy deaths if the bone spike sits on top of a cold flame, with Morrowgar spinning at the same location. Players caught in this situation need to be vocal and ask for a healer cooldown to survive.
[img][/img]

---
Permissies van dit forum:
Je
mag geen
reacties plaatsen in dit subforum